Our History
Artburst is an award winning social enterprise providing creative educational workshops that improve the lives of young people and their families. Artburst's roots are grounded in the therapeutic application of the arts, a philosophy which has been explored separately by Artburst co-founders and lifelong friends Penny Embden and Amy Bicât.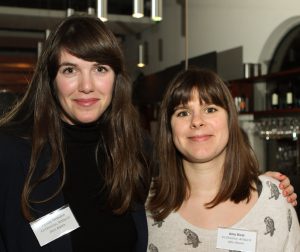 Penny and Amy met at the age of 4 and many years later in 2006 Artburst was formed. In the intervening years Amy trained and worked as an actor, designer, writer and Performing Arts teacher whilst Penny went to Art College, worked as a jewellery and costume designer and led mural projects with young offenders in partnership with charity NACRO, the crime reduction charity. Penny went on to study Art Psychotherapy at Goldsmiths University and Amy completed a Certificate in the Therapeutic & Educational Application of the Arts at the Institute for Arts and Therapy in Education. In 2006 the two combined their skills and mutual passion for empowering young people through the creative and performing arts to form Artburst. From humble beginnings in a warehouse in Hackney Wick, the company has gone from strength to strength, recently relocating to a new home in Angel, north London.
Artburst's activities are process-led and always integrate drama, art, music and movement. Our programmes are aimed at improving oracy and literacy skills, developing confidence and encouraging a passion for children's literature. We run workshops and projects for children from the ages of 0 to 19 and their families, and we work extensively with schools, Children's Centres, Local Authorities, museums and galleries to deliver a range of family learning and creative community projects. We work in partnership with a wide range of organisations such as Hackney Speech and Language Therapy Team to the V&A Museum of Childhood to develop bespoke projects for specific groups.
Artburst has a small core team, but we work with a large network of highly experienced arts and drama facilitators with a range of specialisms, who lead our workshops.
Our aims
Artburst's purpose is to run well researched integrative arts workshops and projects that:
Increase participants' confidence and self empowerment through creativity
Improve coordination, physical awareness, speaking and listening skills
Offer a fun, creative approach to classic children's literature through performance and art
We work with a wide range of participants, from children with learning difficulties to families from disadvantaged backgrounds. We firmly believe that access to the arts should not be exclusive. We believe that everybody has the right to enjoy the arts and that using the Arts for self-expression gives you a firmer sense of who you are. We focus on the creative process, not the end product!
Who we work with
Since we were founded in 2006 Artburst workshops have empowered over 15,000 families and young people through the arts.
50% of these young people and families have had specific needs such as low literacy levels, autism, speech language and communication needs (SLCN) and English as an additional language (EAL).
Although we are north London based, Artburst works across the city, and some of our projects have taken place as far afield as France! To date, 50% of our work has taken place in the London Borough of Hackney, 25% in Tower Hamlets, 20% in other London Boroughs such as Newham, Wandsworth, Havering, Redbridge and Richmond, and 5% have happened outside of London…